Just a few years ago, if you wanted a high-power pressure washer, gas-powered units were your only option. The problems with those units are they require gas, lots of maintenance, heavy and costly.
So, there is a lot of headaches that come along with those units. Fast forward to today, you've got electric pressure washers that are on par with gas-powered models and are way cheaper.
There is one brand that has been coming up with small yet powerful pressure washers, and that is Greenworks. I'm sure you've already heard about them.
In this article, we are going to look at some of the best Greenworks pressure washer reviews to see exactly how they perform and if they are worth looking into.
Greenworks still holds the title for the most reliable electric pressure washer manufacturer. If this is your first time buying a power washer, make sure to check out our top picks down below.
Top 9 Greenworks Pressure Washers Reviews
Here is a list of top 9 best electric pressure washers from Greenworks that are powerful enough to tackle all the cleaning jobs around your home.
1. Greenworks GPW1602 Pressure Washer
Starting our list with a 13 Amp 1600 PSI electric pressure washer from Greenworks. Even though it's a small, light-duty unit, it has a flow rate of 1.2 gallons per minute. With its powerful 13 Amp motor, you can harness the cleaning power of water at full potential.
This power washer comes with quick connect nozzle tips, which you can easily use to change between the 25 and 40-degree tips in no time. For better reach, it comes with a long 20-feet high-pressure hose.
Thanks to the long GFCI electrical cable, you can clean all around the house without having to worry about power outlets. You can operate the washer at either the vertical or the horizontal position with greater stability.
Although it doesn't have any wheels, it is lightweight enough to be carried around with ease. To wash away tough stains and dirt, you can use the detergent tank with soap that is formulated especially for pressure washers.
Pros
Durable non-marring hose
Quick connect nozzles
Compact and lightweight
Cons
Only to be used for light cleaning jobs
This power washer is designed to meet the needs of any homeowner who needs a quick cleaning solution. It's very easy to use and requires no maintenance, and you can also store it wherever you want.
2. Greenworks GPW1501
With a lightweight and compact design and maximum maneuverability for every project, the Greenworks GPW1501 is an ideal choice for a homeowner. You can pair a foam cannon with this one to wash cars, change the pressure to wash your driveway or patio, and even clean the sidewalls and deck walls.
It has a 1500 PSI rating, which is strong enough to take away the top part of the ground and tough stains and dirt. This one is very easy to set up. All you need to do is follow the instructions manual and connect the nozzles and hoses to their dedicated place.
Just like the previous model, this too has the universal 13 Amp motor and 1.2 gallons per minute water flow rating. Although the PSI level is slightly lower, the power level is almost identical, and you won't even notice any difference when cleaning.
It also features quick-connect nozzles to change between 25 and 45-degree nozzle tips. The electric cable is the same as before, and you can also operate this washer at either horizontal or vertical position. It also comes with a detergent tank, but you can use 3rd party foam canons too.
Pros
Compact and lightweight unit
Reliable motor performance
Long high-pressure hose
Cons
It doesn't have a water holding tank
Although this unit is mostly sought after for cleaning cars, you can also clean nasty floors and crevices. Don't get fooled by its compact look; the power is there. For the price, it's really hard to beat this electric pressure washer.
3. Greenworks GPW1951 Pressure Washer
Number 3 on our list is the Greenworks GPW1951. It's a 1950 PSI pressure washer that features a powerful induction motor. This is a 13 Amp universal motor that can deliver 1.2 gallons per minute of water flow for medium to heavy-duty cleaning applications.
The motor on this is also waterproof that makes it longer lasting and provides reliable and consistent power without the need for any maintenance. Whether you want to clean driveways or fences, anywhere you have tough stains, this power washer can take care of your cleaning job.
This vertical electric pressure washer comes with a 25-foot long hose and a 35-foot GFI electric cable that make it very easy to clean out those hard to reach places. It also comes with a professional quick-connect wand that you can use to easily switch between the turbo tip as well as other attachments.
The turbo tip gives you higher water pressure for those tough cleaning jobs. You can also utilize the quick connect nozzle to easily switch to the 25-degree tip, 45-degree tip as well the soap connecting nozzles. It also comes with a built-in detergent tank.
Pros
Non-marring hose to prevent scuff marks
Convenient on-board storage
Large wheels for transportation
Cons
Poor quality control from the manufacturer
Overall, in papers, this is a solid power washer that has all the convenient features you would want for your cleaning tasks. If the product you receive is good, you won't have to buy a new one anytime soon.
4. Greenworks GPW1950
The GPW1950 is almost identical to the GPW1951 with just a minor difference. You can't use this horizontally. However, it has the same PSI rating, same water flow rate, similar 13-amp induction motor, and all the other features that the GPW1950 has.
Let's talk about the main attraction of this unit, and that is the motor. Although it has a 13 Amp motor, it is more powerful yet quieter than the previous model. It comes with large and durable wheels that make it very easy to transport. In addition to that, it also comes with a 25-foot long non-marring hose.
The GFCI cable is 35-foot long, which means you don't have to worry about using any extension cables. You can take on a wide range of stains using either the 0-degree, 25-degree, or the 45-degree nozzle. You can complete any of the cleaning jobs around your house with its dual built-in soap tanks.
The GPW1950 has the best on-board storage I've seen so far. You can easily and conveniently store all the attachments after use. For storage purposes, it has a fold-down handle that conveniently saves storage space. It also comes with a low-pressure foam washer.
Pros
Heavy-duty yet quiet 13 Amp induction motor
Two built-in soap tanks
Compact and easy to store
Cons
If you are looking for a powerful washer that can remove tough stains and dirt, the is the one to get. It is fast and easy to set up, clean, and store. All you need to do is connect the cables and the other attachments, and you will be ready to start cleaning.
5. Greenworks GPW2002
This one is a 2000 PSI cleaning beast from Greenworks. Did you know that all the pressure washers from 1900 – 2100 PSI is considered medium-duty? With this power tool, you can easily clean cars, trucks, boats, patio furniture, sidewalks, decks, driveways, and garage floors.
It also comes with four different spray nozzle tips for a wide variety of cleaning applications. Harness the power of the turbo nozzle and 2000 PSI to blast through dirt and grime to restore your surfaces. It also comes with two spray nozzles and one soap nozzle.
The whole unit weighs around 37 pounds, which might sound heavy, but thanks to the large wheels, it is effortless to move around and store. Like all the other products in this list, this too comes with a 35-foot long GFCI power cable, a 25-foot long non-marring hose as well as convenient onboard hose reel.
You will love the fact that the wand and the nozzle can be stored on the pressure washer, which makes it very easy to store everything in one place. It is also very easy to put together and use. For most of the cleaning jobs, this will be the only power washer you will ever need.
Pros
Easy maneuverability
Powerful induction motor
It comes with a lot of attachments
Cons
It doesn't have a built-in soap tank
Unless you are hauling it up and down the stairs, this will probably be the only electric power washer you will ever need for most of the cleaning jobs that you do around the house.
6. Greenworks GPW1702
There are some jobs around your home that your garden hose just doesn't give you the cleaning power and water pressure you need. Whether you are a weekender or a pro, Greenworks has a broad line of pressure washers that will give you the power and pressure you need to do the job right.
This Greenworks 1700 PSI is another electric pressure washer that is great for light-duty tasks like washing your vehicles and also powerful enough to blast stains and dirt from your walkway, driveway, and patios. It can output nearly 1.2 gallons per minute.
Depending on how big your cleaning task is, make sure you select the right PSI and GPM. If 1700 PSI and 1.2 GPM is all you need, the GPW1702 is the perfect product for you. It features an on-board soap dispenser that comes handy when cleaning cars.
It also comes with two spray nozzles for a broad or direct spray pattern. This product is very compact and weighs only 22.75 lbs. The unit comes with a 20-foot long high-pressure, non-marring hose and features a convenient on-board hose reel for easy storage.
Pros
Good value for the money
Compact and lightweight design for portability
Makes it very easy to clean cars
Cons
Only for small cleaning work around the house
If you are looking to replace your gasoline pressure washer, this will be a perfect start. Not only is it eco-friendly, but it is also very quiet and requires little to no maintenance. For the price, it is really hard to beat this one.
7. GreenWorks GPW2001
Another 2000 PSI pressure washer from Greenworks, and this time it's the Greenworks GPW2001. I must say, this is one incredible power washer. Even though it's an electric model, the cleaning power, water volume, and pressure are on par with most mid-range gas-powered washers.
The powerful 13 Amp induction motor provides unlimited runtime while being as quiet as possible. This motor can output 1.2 gallons of water per minute. The soap tanks are built into the unit. Yes, tanks, there are two of them, which means you will never run out cleaning material.
Having two soap tanks is convenient when you have to wash more than one car at a time. The GPW2001 weighs 42 pounds, which is a bit on the heavier side but comes with a convenient foldable handle and large wheels. It also features on-board hose reel and a lot of space to hold all the attachments.
The power washer comes with four spray nozzles, one turbo nozzle, and three quick-connect interchangeable tips. You will also get a soap tip. In addition to that, you can also buy additional accessories such as a soap applicator, a rotary brush, and a surface cleaner.
Pros
Powerful electric power washer to replace your gas-powered model
Easy to carry around and store
A reliable motor that provides consistent results
Cons
Plastic valves and fittings but they are replaceable
Don't get fooled by the price tag. This one is definitely not an under-powered pressure washer. It has a solid motor, and as long as you take care of the attachment parts, this will serve you for a long time.
8. Greenworks GPW1604 Pressure Washer
If you are a simple electric pressure washer that comes with only the basic features you need for cleaning applications like cars, windows, decks, and other light-duty stuff, the Greenworks GPW1604 will be the perfect deal for you. This pressure washer has a compact design and is very lightweight.
It comes with a 13 Amp universal motor that can produce 1600 PSI pressure and outputs 1.2 gallons of water per minute. This unit is also PWMA certified, which means you will get maximum cleaning efficiency. Even in this small form factor, you still get on-board storage.
You can keep all the attachments as well as the power cable on the unit itself for convenient storage and safekeeping.
It is also quick-connect capable and comes with a wand and two nozzle spray tips. In addition to that, you will also get a quick connect high-pressure soap applicator.
To cover a wide area and clean those hard to reach places, it comes with a 20-foot long hose that is non-marring and durable as well as a 35-foot long GFCI power cord. In short, this is a handy unit to have for light-duty cleaning tasks.
Pros
Quick-connect wands and nozzle tips
On-board hose reel and cord storage
Long wand with interchangeable tips
Cons
Doesn't have built-in soap tank
After a wet summer, this unit can really help you get those concrete patio and composite decking back in shape with little effort. Even though it has a lower PSI rating, it still has enough power for small jobs around the house.
9. Greenworks GPW2005 Pressure Washer
The last product in this list is a 2000 PSI power washer that can output 1.2 gallons of water per minute. The Greenworks GPW2005 is powered by 13 Amp universal motor for maximum cleaning power and efficiency. This unit is also certified by the PWMA.
With this unit, you can power through your toughest cleaning jobs since it is designed to tackle medium to heavy-duty jobs. Spec-wise, you could say it's almost identical to the previous 2000 PSI models in this list. However, it's the little things that make it worth looking into.
The soap dispenser that it comes with can make quick work of washing your car as it can create a beautiful layer of thick soap. For easy storage, it has a foldable handlebar that saves storage space as well as keeps all the attachment neatly organized.
Using this washer is a no brainer. Everything is where you need it with clear instructions. Even the nozzle angles have a guide on the side. With the quick-connect feature, you swap the nozzle out and add a new one in an instant. Although it's a powerful machine, it is surprisingly quiet.
Pros
Ideal for medium-duty cleaning applications
On-board storage with a foldable handle
Powerful yet quiet motor
Cons
It doesn't come with a 0-degree nozzle tip
For what this is worth, if your cleaning tasks involve washing cars, patios, decks, driveways, and sidewalls, this pressure washer is an absolute perfect machine. You can use it right of the box and has all the cleaning features a homeowner needs.
Things to Consider When Choosing a Greenworks Pressure Washer
Removing stubborn paint, stains, and debris are just some of the challenges that a pressure washer has to face. Whether you are cleaning up your driveway or cleaning your fence, you need to have the correct model for the job.
You need to consider how much power and pressure each one delivers, how easy they are to use, and even check noise levels. Yes, noise is an important factor because you don't want to disturb your neighbors.
This buying guide will arm you with expert advice to pick a pressure washer from Greenworks that best suits the job around your house.
All the power washers out there will either use a gas engine or an electric motor to power a pump. Before I go to the main buying guide, let's have a look at the brand itself.
About Greenworks
Why Greenworks? When it comes to electric pressure washers, the only brand that will pop up everywhere is Greenworks. Now, it's not because of some marketing stunt.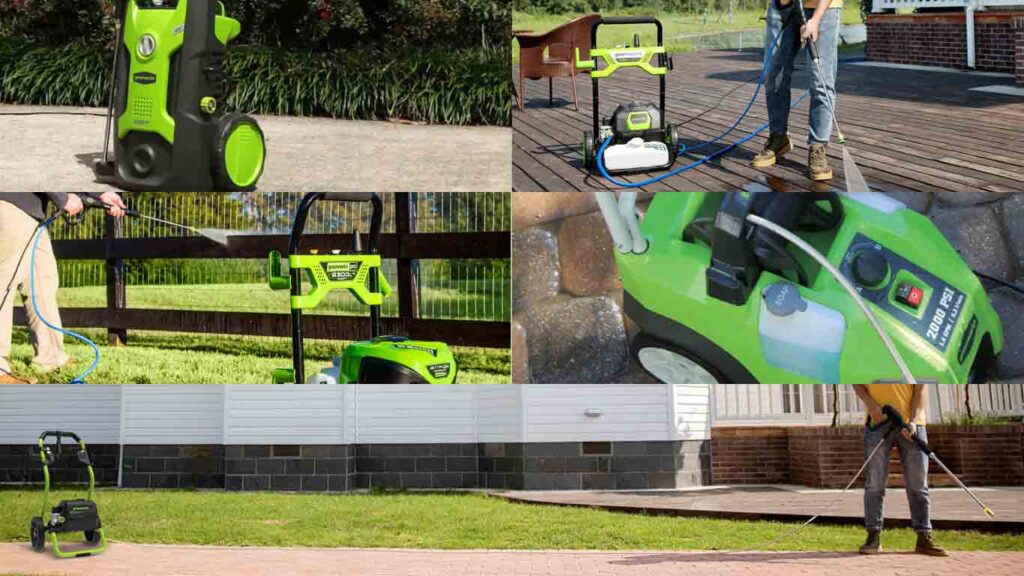 There is a solid reason why they are the most reliable electric pressure washer manufacturer. The reason why they are so reliable is that they have 20% of their staff focused on R&D and quality control.
It's because of this dedication that this brand quickly rose in popularity. Another reason is that they strictly believe in zero-emission. That's the primary reason why they only make electric-powered models.
Type
Since all the products in this guide have an electric motor, I don't think I will need to talk about the different types.
The electric pump on these models is powerful enough to do the job. They are also quite capable of forcing pressurized water through a nozzle. I will, however, go through other important criteria that you should keep in mind.
An electric powered pressure washer can handle most jobs around the home. They cost the least and relatively light. Electric ones are also quieter than gas-powered models.
They are also easier to store. However, there are some downsides. You should never use extension cords with a power washer, and if you do, you need to get an industrial grade extension cord.
If you don't have one, you need to make sure there is a power outlet nearby from the place you want to clean. For commercial purpose, they aren't as powerful as a gas-powered model but will do the job. It will just take longer to finish.
PSI & GPM
The amount of power a pressure washer delivers is measured in PSI, which means pounds per square inch. For cleaning tough stains and hard surfaces like concrete, you will need a machine that can deliver 2000 to 3000 PSI.
On the flip side, cleaning patio furniture or a deck siding will require less power. A washer with a 1500 PSI will be more than adequate.
GPM stands for gallons per minute, which gives you a rough idea of the amount of water flow used to wash stains and dirt away. The higher the GPM and PSI, the more powerful your pressure washer will be, and the faster you can clean.
Attachments
These products can either come with a fixed nozzle or an interchangeable one. Some will allow you to adjust different angles to cover large surfaces or to focus on a specific spot for better cleaning.
Wand tips that are adjustable are more convenient in this case. However, if you want specific angles, nozzles are the way to go. The angles usually range from a very narrow 0-degree to a wider 65-degree angle.
For safety purposes, it is recommended that you don't use pressure washers that come with wands or nozzles that can produce sprays of 15-degrees or less.
The reason for this is because a misplaced jet of water can and will do some serious damage. It could land you or a bystander in the emergency room.
Additional Features
When shopping for one, apart from the basic features, there are some other ones to look out for. For example, cord storage. Instead of wrangling a knotted mess, having a proper cord storage section is way better.
To carry the machine around, wheels are a must. They should also give the device proper balance so that you can easily move the washer around. Most of the Greenworks pressure washers have soap tank built-in so that you don't have to use a separate container.
Some common features you will notice that all Greenworks pressure washers have are GFCI power cord and non-marring high-pressure hose. There are some models that have built-in soap tanks, while others will come with a soap applicator.
Safety Tips
These are powerful tools and can easily damage surfaces. That's why you should always follow the manufacturer's instructions.
It is a good practice to begin with the widest spray angle.
Start your spraying from at least 2-feet away from the cleaning area and then slowly move in to avoid damage.
Make sure to wear protective shoes and goggles.
Final Thoughts
For light-duty home use, you will find that the best Greenworks pressure washer will be than adequate. If you intend to buy one for washing cars, small decks, and outdoor furniture, you don't have to buy a commercial-grade power washer. An electric-powered model is all you need. Hopefully, our Greenworks pressure washer reviews were able to guide you to the right one.